We first investigated whether Tpk1p occupies genes using genome-wide ChIP-Chip with cells grown in glucose media. (Fig. 3).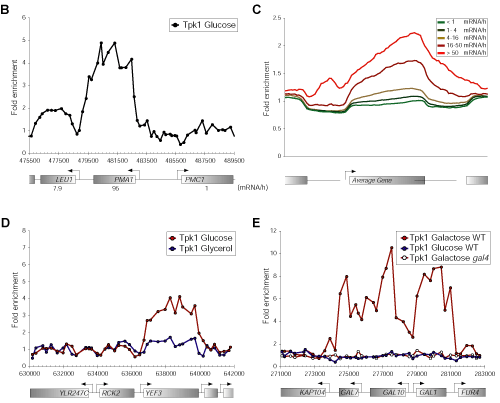 Results:
Tpk1p was found to occupy the entire transcribed region of highly transcribed genes (Fig. 3B).
There is a positive correlation between Tpk1p occupancy and transcription rates genome-wide (Fig. 3C) (see Methods).
Upon transfer to a non-fermentable carbon source (glycerol), Tpk1p occupancy was drastically reduced at genes whose expression was substantially repressed (Fig. 3D).
Tpk1p became associated with galactose-inducible genes upon exposure of cells to galactose (Fig. 3E). Tpk1p occupancy at these genes was dependent on gene activation because there was no Tpk1p occupancy of the GAL genes in strains lacking the transcriptional activator Gal4p (Fig. 3E).
These results indicate that Tpk1p becomes physically associated with actively transcribed genes and that occupancy occurs throughout the transcribed portions of these genes.